With her primary focus on accepting others with disabilities, Lynn Aydlett, a first-grade teacher at Valmead Elementary School, was awarded the Cylinda Hazen Scholarship sponsored by the Education Foundation Inc. of Caldwell County.
Aydlett's project entitled Diversity and Tolerance: A Lifelong Attitude incorporates social study lessons, literature, and dramatic play to teach children about diversity and tolerance.
Aydlett explained, "Students love toys, but very few toys allow students to embrace diversity and understand it. I will be providing students with the opportunity to use diverse dolls and toys for dramatic play. These dolls and toys emphasize handicaps our students are exposed to in our school and our community. In addition, these dolls and toys will be used in lessons by teachers to teach the students about diversity and tolerance."
The scholarship totaled approximately $1,000. The funds will be used to purchase special needs dolls with special needs equipment and a collection of children's books on disabilities and diversity.
"Whether during lessons or having the books as a free choice in the library, literature is the backbone to this project being successful," said Aydlett. "Having the students exposed to lessons, literature, and diverse toys and dolls will be a treasure that the school will love for many years to come!"
###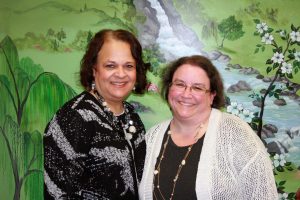 Left Carol Sturgis, Principal, and Lynn Adylett, a 1st-grade teacher at Valmead Elementary School
About the Cylinda Hazen Scholarship:
The Cylinda Hazen scholarship recognizes a Caldwell County educator who dedicates him/herself to improving the lives of children through teaching or promoting character education, good citizenship, and volunteerism within his/her school, i.e., going beyond the call of duty. For more information on the Clylinda Hazen Scholarship, go to https://www.caldwellschools.com/Page/738.