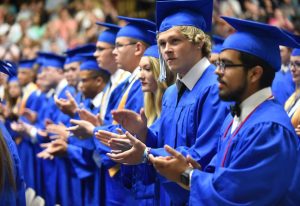 HIGH SCHOOL GRADUATION WILL BE HELD ON SATURDAY
At the Jan. 14 School Board meeting, the Board of Education voted unanimously to change the high school graduation date from Friday, June 7, 2019, to Saturday, June 8, 2019.
Hibriten High School, West Caldwell High School, and South Caldwell High School will graduate on the same day with staggered start times. The graduation ceremonies will commence as follows: South Caldwell High School, 9:00 am; West Caldwell High School, 12 noon; and Hibriten High School, 3:00 pm. These events have been held previously on Friday evening at the same time.
Superintendent Dr. Phipps made the recommendation to the Board of Education to allow for each of them to have the opportunity to attend all high school graduation ceremonies.
"This is one of the most important occasions in the school district and within the family circle," said Phipps. "Graduation is a culmination of each student's educational advancement and achievement beginning in kindergarten. A milestone such as this should merit the presence of the school system's Superintendent and all its Board members."