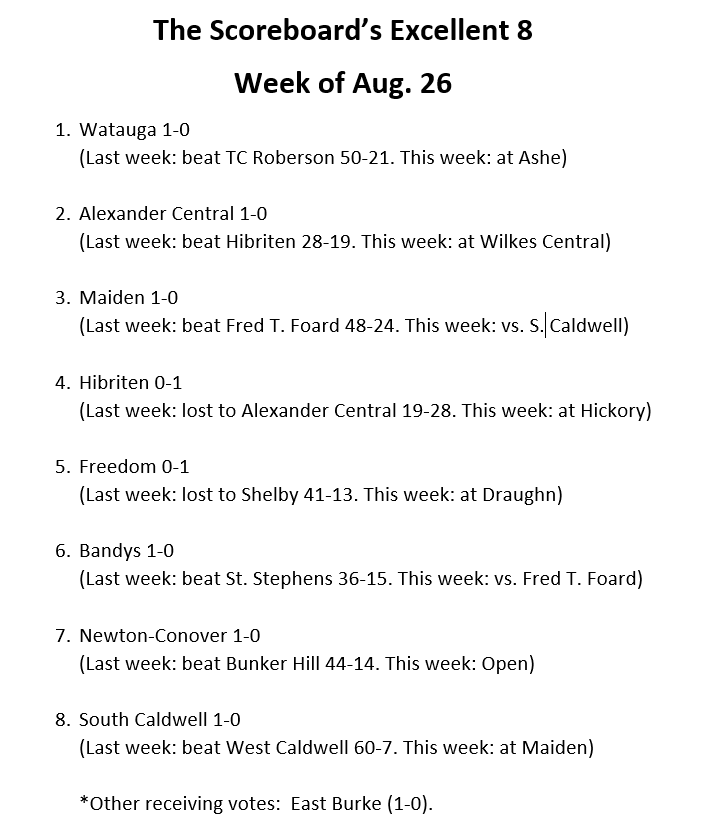 The KICKS 103.3FM Sports Team/The Scoreboard has unveiled their initial high school football Excellent 8 Power Poll. David Jones & Jeff Link take the 17 teams in the Catawba Valley, evaluate their performances (& potential), and rank the top 8! All football playing high schools in Alexander Central, Burke, Caldwell, Catawba & Watauga counties are eligible. *Note* Hickory is not included in this week's poll since the Red Tornadoes' season opener was postponed until Monday night due to weather.
This week's Catawba Valley High School Football Game of the Week is Hibriten at Hickory. Kickoff is set for 7:30PM with coverage starting at 7PM on KICKS 103.3FM. On Saturday morning, tune in at 9AM to The Scoreboard on WJRI 1340AM/100.5FM. David and Jeff will recap all the high school football action from across the Catawba Valley.
High School Football on KICKS 103.3 is brought to you by Blue Ridge Energy, Kelley Sports & Awards, Scott Murphy Dentistry, Foothills Auto Mart, Caldwell Community College & Technical Institute, Corriher Tractor,  and Foothills Temporary Employment.