Come help Light Up Lenoir tomorrow, Thursday, Nov. 16, 2023, in Downtown Lenoir. We have even more beautiful lights this year, plus FREE cookies and hot chocolate. Santa Claus will be there, too!
Light Up Lenoir starts at 5:00 pm. Downtown will be closed on West Avenue from Mulberry Street to Church Street, and on Main Street from Ashe Avenue to Harper Avenue.
You can visit with Santa Claus and take your own pictures from 5:00 to 7:30 pm. Local schools will play holiday tunes from 5:00 to 6:30 pm. Starsteps Dancers will close out the entertainment from 6:30 pm to 7:00 pm.
The Christmas Light Show will play from 7:00 to 10:00 pm. The show will continue nightly from 6:00 to 10:00 pm through New Year's Day, Jan. 1, 2024.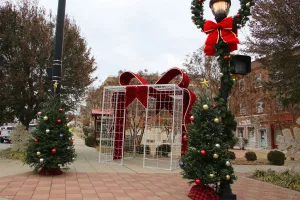 LIGHT UP LENOIR SCHEDULE
Thursday, Nov. 16, 2023
Santa Claus – 5:00 to 7:30 pm
School Performances – 5:00 to 7:00 pm

5:00 pm – Gamewell Middle School Chorus
5:30 pm – Davenport A+ School Chorus
6:00 pm – Davenport A+ Violins
6:15 pm – Valmead 3rd, 4th, 5th graders
6:30 pm –  Starsteps Dancers

Christmas Light Show – 7:00 to 10:00 pm